The Hand
2011 Deep Dot Records
Boar of the Forest
2006 Fleece Records
Tardy All the Time
1998 Fleece Records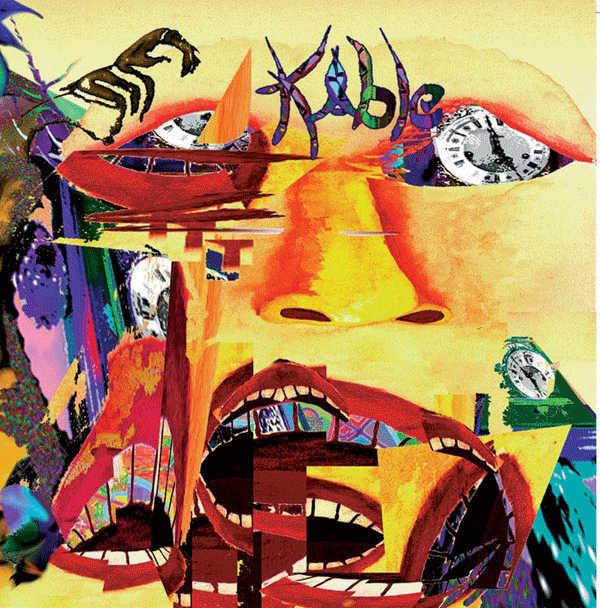 Chlorophyll
1995 Fleece Records
Kable also has cuts on the following compilations:
​
Syd Barrett-Love You
Gonzo Multimedia 2021
​
For Lee Jackson in Space

2012
​
Further Adventures of Telepathic Explorers
Free City Media 2003
​
The Vegetable Man Project Volume 1
Oggetti Volanti Non Identificati 2002
​
​
Succour: The Terrascope Benefit Album
Flydaddy 1995
​
​
Risk is Just a Part of the Game
Lazy Squid 1994
​
​
JUNE 4th 2012 "For Lee Jackson in Space" a compilation in honor of the memory of Lee Jackson who passed away in March due to complications from Lou Gehrig's disease. The comp features 94 bands....that's right 94 all original songs including a new Kable cut! The cost will be $30 for the entire compilation and the proceeds will go to the ALS Foundation to help find a cure... and to help those suffering from the disease. It will be available on Bandcamp and as far as what you will hear, I think the words of Mats Gustafsson, close friend of Lee and co-writer at the Broken Face sum it up well when he was advising for musical content......." Lee's music taste was very wide and the music we covered in the Broken Face reflected that. We simply covered music that we like, no matter if it was psych, drone, noise, folk, country, blues or whatever so I say…follow your first instinct."
Comments about Kable's "Be Next" from Travis Johnson's Facebook review of the songs on the Lee Jackson comp...
TRACK #39 - Many a bittersweet joy arises from the creation of For Lee Jackson in Space. One such joy is the opportunity to hear musicians we've overlooked prior to all of these loving artists coming together under this particular canopy. Those who knew Lee know he was fiercely dedicated to making sure this happened as seldom as possible. How fitting that this shrine of a compilation should continue his mission to tirelessly document and spread the word about the artists he so adored.
Texas' own Kable is a new discovery to me, and a bit of a surprise given the top-notch quality of Kay Bonya's truly rocking project. Born back in '94 from the itch of recording fever and developed over the years into a tight, eclectic, and very smart enterprise, Kable crafts mood songs that comprise albums that deliver on all sorts of levels. Bonya's contribution to Lee in Space had me hook, line, and sinker, and I suspect grabbed the attention of quite a few of you as well. This is pretty much fuzz pop perfection as far as I'm concerned. Give it a whirl, and don't be shy with the volume. Thank you, Kay!!
Link to Bandcamp Compilation "For Lee Jackson in Space" 94 bands for $30. Proceeds to ALS Foundation.
AllMusic Review of Succour by Jim Powers
Psychedelia is back. Or, perhaps it never went away; this collection is a testament to and a helping hand for the independent British magazine The Ptolemaic Terrascope, which has the singular goal of exposing a wide range of music new and old with a vaguely psychedelic bent. Succour (and its companion Alms) initiates and familiarizes the curious reader with a generous helping of Terrascopic finery. Alongside well-knowns Spirit, Peter Buck of R.E.M., and Robyn Hitchcock, reside outfits with far-out handles like Olivia Tremor Control, Cul de Sac, and the Bevis Frond. The music is as trippy as the band names; while not inaccessible, it requires as open mind. In many instances, the overall effect of the music doesn't sink in for several listens. But once it does, the satisfaction is unassailable. Each participant has brought a world-class dish to this potluck; in addition to the United States and England, Japan, Norway, Australia, and New Zealand are represented here. In addition to showcasing some of the cream of the indie-rock crop, Succour raises some much-needed funds for a publication these artists hold near and dear to their hearts.